Xarelto Lawsuit Settlement Funding
Fair Rate Funding currently offers Xarelto lawsuit funding for plaintiffs involved in the Xarelto bleeding lawsuit.
For those victims who are currently plaintiffs or are considering filing a complaint against Bayer and Johnson & Johnson for serious complications arising from a patient's use of Xeralto, such an undertaking can seem exhausting. This is especially true if victims are already facing financial strains. Fair Rate Funding is a leader in Xarelto lawsuit funding, so victims can be sure that help is there, if needed.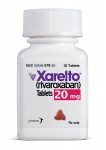 Xarelto (RIVAROXABAN) is a drug manufactured and marketed by Bayer HealthCare and Johnson & Johnson's Janssen Pharmaceuticals. The product is a "blood thinner" (anticoagulant) commonly prescribed to treat such conditions as atrial fibrillation and deep vein thrombosis in surgical patients.
The Food and Drug Administration (FDA) approved the drug in 2011. Sources indicate over 300 instances of serious complications were reported in the first year alone. These complications involve patients suffering serious bleeding episodes, some of which were fatal.
Cases are currently consolidated in Federal District Court in Louisiana. It is possible that thousands of cases will join in the Multi-District Litigation (MDL), which is designed to reduce administrative strains on the litigants, avoid duplicative discovery on common issues affecting many cases, and avoid conflicting pretrial rulings by different judges.
Although the MDL process is designed to streamline the litigation, as more plaintiffs join in, more layers and complexity are added. This could cause even more delay in the compensation for affected parties.
Xarelto Lawsuit Funding Offers a Financial Lifeline
Plaintiffs who lost a loved one to a Xarelto bleeding event cannot ever be compensated for their loss. A lawsuit could offer some financial relief down the road, but it offers little immediate comfort, especially if the deceased contributed financially to the family.
For those who are in need of financial support while their Xarelto lawsuit is being litigated, Xarelto lawsuit funding offers one possible solution.
While the case drags on, plaintiffs often encounter severe emotional and financial stress. This condition can be improved with some extra money. A lawsuit cash advance from Fair Rate Funding can help.
If you are a plaintiff in a Xarelto bleeding lawsuit, you may be eligible for a Xarelto lawsuit funding from Fair Rate Funding. If you are in need of immediate cash while waiting for compensation on your case, Fair Rate Funding can provide a Xarelto lawsuit loan to help pay for your expenses while your case is being litigated.
We know you have a choice of lawsuit cash advance funding companies and are happy to assist you in your time of need. To obtain lawsuit funding loans in the quickest and easiest manner, please fill out the submission form on this page. One of our agents will contact you immediately and start the process. You can then simply sit back and allow Fair Rate Funding to do its job. We regularly process and provide lawsuit cash advances within 24 hours of receiving the paperwork from your attorney.
We provide Xarelto lawsuit funding for Xarelto bleeding lawsuits for the following states: Alaska, Arkansas, California, Connecticut, Delaware, Florida, Georgia, Hawaii, Idaho, Indiana, Iowa, Louisiana, Massachusetts, Michigan, Mississippi, Montana, Nevada, New Hampshire, New Jersey, New York, North Dakota, Ohio, Oklahoma, Oregon, Pennsylvania, Rhode Island, Texas, Utah, Vermont, Virginia, Washington, West Virginia, Wisconsin, Wyoming and the District of Columbia D.C.